NEWS
---
Although Grass Seemingly Small,An Anchored In Ground,It Can Create A Blue Sky
---
The market demand for flavor products is growing rapidly. The industry has broad prospects for development.
---
The flavor and fragrance industry is an important raw material industry for flavoring products. Spices are the raw materials for blending flavors. Fragrance is a special product closely related to human social life. It is known as "industrial MSG" and its products are widely used in food industry, daily chemical industry, pharmaceutical industry, tobacco industry, textile industry, Various industries such as the leather industry. China is the world's largest producer of natural flavors and fragrances. There are more than 7,000 varieties of spices in the world, and there are more than 1,000 kinds of spices produced in China.
In recent years, China's flavor and fragrance industry has developed rapidly, and has made great progress, and a number of independent innovation leading enterprises have emerged. Specifically, the export trade volume of the industry continues to expand; from a full dependence on imports to some products can be exported in large quantities; from small workshop production to industrial production; from imitation to development; from imported equipment to professional equipment for independent design and manufacture; from sensory evaluation to The use of high-precision instrument testing; from apprenticeship to training professionals; from wild resource collection to introduction and cultivation and establishment of bases, has enabled China's emerging industry to develop into a relatively complete industrial system of the national economy.
According to the data from the Prospective Industry Research Institute's "Market Demand Forecast and Investment Strategy Planning Research Report", as of the end of 2015, there were 352 flavor and fragrance production enterprises above designated size, with total assets of 53.571 billion yuan, up 9.00% year-on-year. . In 2015, the fragrance and fragrance industry achieved a total sales income of 61.852 billion yuan, a year-on-year decrease of 2.21%; total profit was 7.262 billion yuan, a year-on-year decrease of 8.11%. Overall, due to the impact of the economic environment, the sales performance of the fragrance and fragrance industry has declined.
The production and development of China's flavor industry is compatible with the development of supporting industries such as food industry, beverage industry and daily chemical industry. The rapid changes in downstream industries have led to the continuous development of the fragrance industry, the continuous improvement of product quality, the continuous increase of varieties, and the scale of enterprises. With continuous expansion, product output and sales are increasing year by year.
At the same time, with the improvement of residents' living standards and the upgrading of consumption structure, consumers are pursuing health, nutrition and hygiene while gradually seeking the fashion and novelty of taste. The market needs more new flavors to satisfy people. The discerning taste experience, the market demand will show a rapid growth trend, which provides a broad market space for the rapid development of China's flavor manufacturing industry.
From the statistics of China's flavor production and sales revenue in recent years, the fragrance industry has shown a trend of rapid growth year by year. The production of flavor has basically adapted to the needs of people's life, industrial and agricultural production and market. After 2003, China's flavor production continued to grow steadily. By 2016, China's fragrance output was about 660,000 tons, with a growth rate of 10.36%.
2009-2016年中国香精产量变化情况(单位:万吨,%)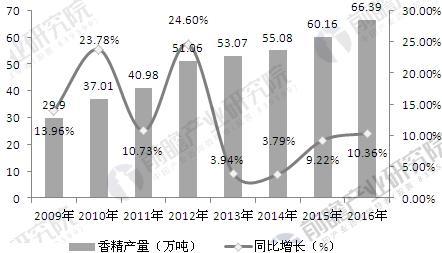 Due to the huge development potential and market space of the Chinese flavor and fragrance market, internationally renowned flavor and fragrance companies have invested and built factories in China, occupying a large share of the domestic high-end market of flavors and fragrances. At the same time, domestic private flavor and fragrance manufacturing enterprises have won the recognition and favor of customers after years of development, with stable product quality, reasonable product prices and thoughtful technical services. At present, the industry is mainly represented by market competition between foreign-funded enterprises and private enterprises.
In 2016, the proportion of foreign-funded and private enterprises accounted for more than 99% of the whole flavor and fragrance industry. The proportion of sales revenue of private enterprises accounted for 64.19% of the total sales revenue of the whole industry, of which private enterprises accounted for 34.49%; The proportion of sales revenue of the industry is as high as 35.74%; the sales revenue of state-owned enterprises accounts for 0.07% of the total industry. Obviously, in terms of the competitiveness of the economic nature of enterprises, foreign-funded enterprises have strong competitive strength.
---
NEWS
---
Although Grass Seemingly Small,An Anchored In Ground,It Can Create A Blue Sky