NEWS
---
Although Grass Seemingly Small,An Anchored In Ground,It Can Create A Blue Sky
---
Is South Africa Gouma the hand of "devil" or the tear of "angel"?
---
South African Gouma, also known as devil's claw, is a herb of flax family growing in Namibia grassland and Kalahari Desert in southwest Africa - devil's claw. Pagosid is the effective ingredient of South African Gouma, which has gained consensus in the research so far. The study of devil's claw extract began in the 19th century. Due to its early research abroad, there have been a large number of animal studies and clinical application and curative effect observation, and it has been widely used in Europe. Due to the factors of origin, there is relatively little research on its pharmacology in China, but according to the currently reported literature, the extract of South African hookah is an effective functional extract that is very suitable for the health care of people in modern society, especially the elderly.
Introduction to the medicinal efficacy of the extract of South African hookah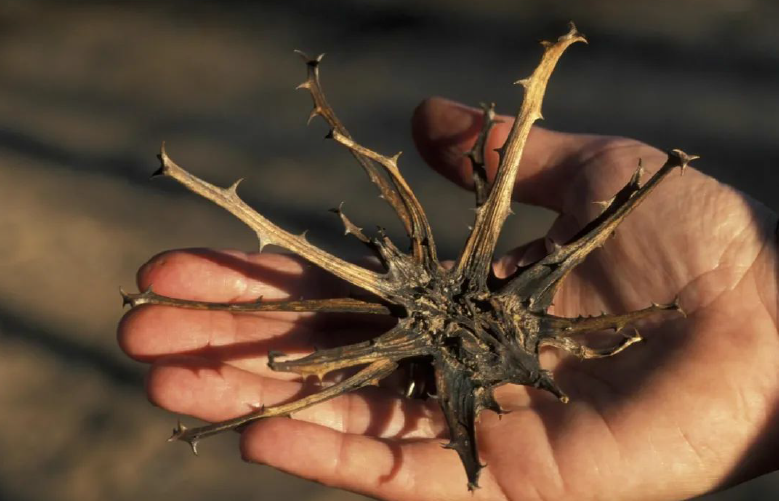 As a natural plant source extract, the South African hookah extract has been used as a herbal medicine in African tribes for a long time with few adverse reactions. So far, studies have shown that the main components that play its medicinal role are glycosides β- There are three major categories of sitosterol and polyunsaturated acid, the most abundant of which is hydrocarbon glycoside, and the main one is harpaside. Taken together, these active ingredients can play the following roles:
01 Antioxidant
Human aging and many diseases are closely related to the oxidation reaction in the body. At present, many experiments are devoted to studying the possible antioxidant activity of devil's claw extract, especially its anti-infective and anti-rheumatic effects.
For inflammatory diseases such as rheumatoid arthritis, it is generally believed that the pathogenesis of rheumatoid arthritis is closely related to the accumulation of oxygen free radicals. Oxygen free radicals can cause direct cell damage. The damage of oxygen free radicals to human body can lead to lipid peroxidation. At present, the active substances with relatively high awareness against peroxidation include superoxide dismutase (SOD), catalase (CAT) and glutathione peroxidase (GPX). These active ingredients have been widely used in health care products, functional foods and cosmetics.
Some experiments have studied the antioxidant mechanism of the extract of South African hookah and found that the extract of South African hookah does not directly act on oxygen free radicals, but plays its antioxidant damage role by increasing the activity of SOD, CAT and GPX to reduce the generation and accumulation of oxygen free radicals.
02 Anti-infection
Foreign studies have found that the other effective component in the extract of South African hookah hemp, hapaposide, plays an anti-infective role by affecting the biosynthesis of arachidic acid. They have proved that there is a close relationship between the level of harpardine in human serum and the inhibition of leukotriene (LT) biosynthesis, and harpardine can affect the biosynthesis of thrombus cord. Eleven different hydrocarbon glycosides contained in the secondary root extract of South African hookah also have the effect of inhibiting the synthesis of pro-inflammatory factors.
03 Improve rheumatism
Rheumatic diseases are prevalent in the middle-aged and elderly, and seriously affect their quality of life. Generally speaking, rheumatism refers to a group of diseases that affect bone, joint and surrounding soft tissues, such as muscle, bursa, tendon, fascia, nerve, etc., and is an autoimmune disease.
At present, NSAIDs and glucocorticoids are mainly used for the treatment of rheumatism. But the adverse reactions and side effects of these two ingredients are also great. South African Gouma extract has anti-infection, analgesia, anti-rheumatism and other effects, and can effectively reduce joint pain, swelling and morning stiffness of joints. Because its adverse reactions are small, mild, non-toxic, non-addictive, effective and safe, it is more suitable for long-term use of Chinese herbal medicine for people suffering from rheumatism.
04 Analgesia
The analgesic effect of the extract of South African Gouma is obvious, especially for chronic pain in skeletal muscle. Some studies have shown that in the remission experiment of skeletal muscle patients, although the effect is slow, the action time is long, well tolerated, and there are few adverse reactions. In addition, it can also significantly alleviate prostate pain.
05 Others
It has also been reported that the extract of South African hookah has obvious effect on relieving symptoms of mandatory spondylitis. Other studies have shown that the extract of South African hookah can improve hyperuricemia and relieve pain and swelling in patients with acute gouty arthritis.
The South African Gouma extract has anti-inflammatory, analgesic, anti-rheumatic, antioxidant and immune effects, especially suitable for older patients. With the intensification of the aging of the population, the quality of life of the middle-aged and elderly people is receiving more and more attention. Functional health care ingredients derived from natural plants are easily accepted by middle-aged and elderly people who need long-term intake due to their small side effects. At present, the identified components of the extract of South African hookah provide a basis for the extraction or synthesis of plant components from China.
---
the,of,and,in,extract,african,is,south,to
NEWS
---
Although Grass Seemingly Small,An Anchored In Ground,It Can Create A Blue Sky