NEWS
---
Although Grass Seemingly Small,An Anchored In Ground,It Can Create A Blue Sky
---
World perfume industry summit held to promote high quality development of perfume industry
---
  Source: guangming.com
  On April 22, the first world spice industry summit forum and the press conference on the site selection of 9 + 2 project of world spice trading center and industrial cluster Dawan district were held in Beijing. The press conference aims to stimulate the vitality of market players, promote entrepreneurship, and promote the development of China's incense industry to high-end and large-scale. The activity was supported by the European and American Alumni Association, entrepreneurs' Association, China Industry Overseas Development Association and other units.
  Since ancient times, spices have been an important part of the Silk Road trade. In recent years, one of the important bridges one belt, one road, is the cultural industry, trade and economic cooperation. According to statistics, the output value of China's fragrant industry reaches 10 trillion yuan, while the world's flavor and fragrance output value reaches US $150 billion.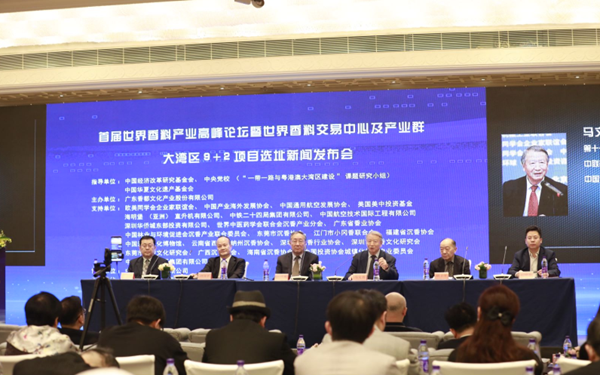 According to records, Dongguan City, Zhuhai City, Zhongshan City, Maoming City and other cities in Guangdong Province all have a cultural history of using aloes for more than 1500 years. They are the hometown of aloes in China. Liaobu Town, Dongguan City, Guangdong Province, as one of the birthplaces of agarwood industry, is located in the hinterland of Guangdong, Hong Kong and Macao. Huaxia Xiangdu cultural industry (Guangdong) Co., Ltd. will join hands with Shenzhen Overseas Chinese Town East Investment Co., Ltd., China Huaxia cultural heritage foundation, China agarwood Museum, Guangdong Association of incense industry, Dongguan Association of agarwood industry, Shenzhen Association of agarwood industry, Hainan Association of agarwood industry, Fujian Association of agarwood industry, Guangxi Association of agarwood industry, etc. to build "Huaxia Xiangdu" incense industry Reshape the "origin and holy land of Aquilaria", "carbon sink base of Aquilaria medicine, culture and innovation", "health highland of traditional Chinese medicine in Guangdong, Hong Kong and Macao" to promote the high-quality development of Aquilaria industry.
  The middle links of the fragrance industry chain include pharmaceuticals, medical devices, food, health care products, process daily necessities, etc. among them, traditional Chinese medicine and spice industry are both rooting and promising industries. Aquilaria has great development value. It can be made into products with different uses according to different grades and forms. At present, Aquilaria products produced in Guangdong Province mainly include wired incense, Chinese medicinal materials, ornaments and collectibles, and have broad markets in Europe, Africa, Southeast Asia, the Middle East and other regions.
---
industry,of,the,and,association,in,to,agarwood,guangdong
NEWS
---
Although Grass Seemingly Small,An Anchored In Ground,It Can Create A Blue Sky